Conversion Optimization Guide For E-Commerce Shopping Carts
Every website owner is searching for a way to increase their sales. While online marketing might be the first thing that comes to mind, you must not forget the user experience. Below are tips to optimize sales and reduce shopping cart abandonment rates for clients who find their way to your website.
INTEGRATE WITH OR TRANSITIONING TO ECOMMERCE TECHNOLOGY
Yes, you can turn any WordPress website into an eCommerce website, but if you are serious about your goals, it's time to consider integrating with or transitioning to an advanced eCommerce technology such as Magento or Shopify. Both are unique, so you must select the solution that works best for you, but both will present you with the modern, secure, and user-friendly online shopping tools your customers expect. This includes the ability to perform the suggestions below.
RETHINK YOUR CURRENT LOGIN MODEL
First, begin by considering if it is necessary for your customers to create an account to place their order. For example, if you are selling a digital product that a client will purchase just once — it's not necessary. If your goal is to capture repeat business or add your customers to a marketing funnel, then you may require a login. At the very least make login easy:
Provide a login with Facebook or Gmail option.

Allow auto-fill boxes.

Leave creating an account until after your client has proceeded to check out—not when they simply want to add an item to their cart.

Consider offering a "guest login" option, even if you would prefer your customers create an account.
OFFER PayPal OR AMAZON PAY
There are many advantages to integrating with and offering either or both PayPal or Amazon Pay. For starters, both eliminate the risk of shopper's credit or debit card information being stolen while placing an order online. Although you may have an SSL certificate and additional security built-in, many shoppers appreciate the peace of mind. While security is high on the list of priorities, so is convenience—and checking out with either is fast and easy.
EASILY DISPLAY PRODUCT REVIEWS
An easy way to take a customer who is on the edge from maybe to a conversion is to place product reviews above the fold. The fold is the part of the page that your customers will see on the screen without scrolling down. For example, you could place how many stars the product has under the product image, description or price — and allow customers to click on the review link to display the more in-depth review details. If you don't have a lot of sales this might seem redundant, so be sure to request a review by email after a product is purchased.
SHOPPING CART TIPS
Your shopping cart must be easy to find on any screen. Customers like it when they can see how many items they have in their cart, and easily transition from their cart back to your product inventory. If you ship to multiple countries have a built-in conversion calculator so that your customers can see exactly how much they will spend on both the product and shipping. Allow your customers to review and edit their cart before they process their order. For example, if they accidentally clicked on the wrong color or size, they should be able to easily make the adjustment.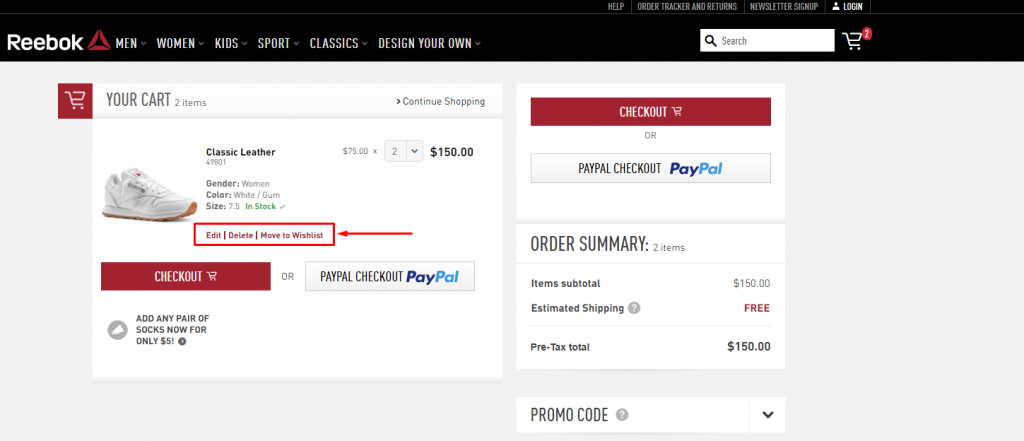 Allow your customers to add items to a wish list, save their cart (without holding up your inventory), and maybe even email a product to a friend.
Finally, show related products or products frequently purchased together. For example, if someone is purchasing an adult coloring book — colored pencils and gel pens would be frequently purchased together. Or if someone is purchasing a pod coffee maker, suggest flavored pods, reusable pods, a portable thermos, and maybe even ground coffee.

AFTER AN ORDER IS PLACED
If a customer is not pleased with what happens after their order is placed, they are less likely to return. Some things to consider include:
Offer a printable order page, at the very least an order screen with the order number.

Send an instant order confirmation email, including a link to their order and/or tracking information. Also, how to contact you if there are any problems with their order.

Have easy on-screen contact information for clients who have questions about their order after it is placed or once it arrives.

Clearly state your full shipping and return or exchange policy on your website.

Send a follow up email after your order is received, maybe even a review reminder.
KEEP AN EYE ON YOUR LOAD TIME
Your customers want to be able to transition from page to page without delay. Not only is it frustrating to have to wait, but many customers view a slow website as a website that is less reputable. If your website is slow, there could be a variety of factors — of which a website professional will be required to resolve.
PRIORITIZE MOBILE
Mobile shopping is on the rise. This means your website needs to be more than just mobile responsive, but as easy and intuitive to browse and shop as on mobile as on desktop. If a customer feels they would need to wait to get home to shop on their computer, they may opt for a mobile-friendly competitor instead.
DO IT YOURSELF
Sometimes as an eCommerce website owner or operator we get so caught up in the sales and business side of the process, we forget the consumer experience. So, to test your process — place an order. No worries about the expense, just make yourself a custom FREE coupon code. Then, go through every step of the process including manually marking the package as shipped. This is an excellent way to compare shopping on your website with the major players you shop with regularly.
As you can see, there is much thought that goes into creating a user-friendly and intuitive online shopping experience. If your cart abandonment rate is higher than 65 or 70 percent — these tips will help.
Cider is a Software Development Company based in the heart of Silicon Valley. We combine business domain knowledge and technology expertise of more than 50 development studios spread around the world. We specialize in custom web development, as well as customization of CMS based websites. We have experience in building websites across different verticals: from eCommerce to Healthcare.
We will be happy to help you analyze current state of your web property and move it to next level together.  Reach out to us for a FREE Quote!