How Your Hosting Affects Your Online Success
Website hosting is something most website owners don't think much about. A website host is required as soon as a domain name or website URL is purchased, and often offered for free or for a very low monthly or annual rate. While a cost-effective solution is always attractive, basic website hosting is unlikely to meet your needs, especially as your business grows. Current statistics show that 49% of website visitors will abandon a website if it has performance issues. Below are a few ways to measure your current website host, and the information you need to know when searching for a new web host.
Your website should load on both desktop and mobile devices in two seconds or less, or half of your visitors will leave your website. This includes the load time when switching from one page to the next. Unfortunately, most website owners are unfamiliar with their website speed — as they may not visit their website that often. In addition to regularly testing your website check your control panel to view speed details, as load time will vary from peak traffic times to low traffic times. Website speed is often a contributing factor to abnormally high bounce rates. You can check your website loading speed via Pingdom.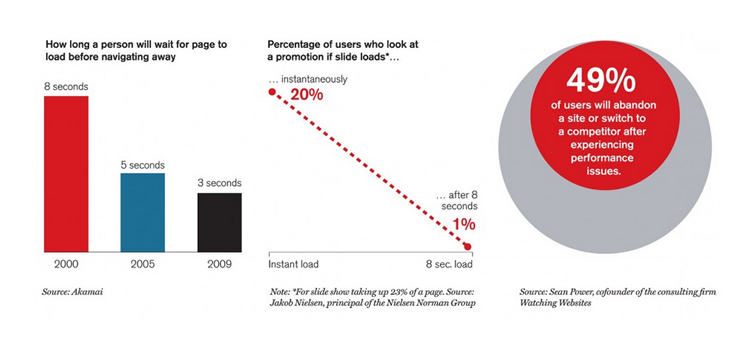 Image was taken from: https://bit.ly/2HxA35i
When it comes to website hosting you get what you paid for. A solid host will handle all critical security updates for your site, as well as block unpatched vulnerabilities that increase the likelihood of your site being hacked. These are skills the average business owner does not have to be sure to ask if this is something your host provides. While you may need to implement additional security features, such as an SSL certificate you must ensure that your host provides more than generic security.
As you assess your current host or search for a new host, one of the primary questions you must inquire about is how often their hosting "goes down". In other words, how many hours a day, week, and year your website would be inaccessible. While a 98% or 99% uptime might sound close enough to 100% to be acceptable, aim for a host that can deliver at least 99.5%. It might not sound like much of a difference, but the difference can be detrimental to your business. Just take a but look at the numbers:
98% means 28.8 minutes a day, 3.4 hours a week, and 7.3 full days a year.

99.5% means 7.2 minutes a day, .84 hours a week, and 1.83 days a year.

99.9% means 1.44 minutes a day, .17 hours a week, and 8.8 hours a year.
In addition to inquiring about your website uptime percentage, inquire about your host's website backup procedures. They should be automated and ensure that little to no information will be lost if your site is hacked or goes down.
POOR HOSTING CAN NEGATIVELY IMPACT SEO
SEO doesn't typically come to mind when speaking of website hosting, but poor hosting can negatively impact your page rank. Why? Because search engine algorithms factor website speed and downtime into how they rank a site. In other words, they value quality and don't want to send visitors to sites that are likely to be down — or so slow that most visitors leave before the site loads.
Keep in mind that you must factor in both your desktop and your mobile load times. If your website is not yet mobile optimized (which it should be) your mobile speed may be significantly lower than your desktop load times. This might create a situation where your desktop page rank is higher than your mobile page rank. Depending on your business model and demographics this could be detrimental to your success.
On that same note, having your website hosted in the same geographic location as your primary demographic is another contributing factor to SEO. This gets a bit tricky if your consumer demographic is global, as you may host in the country of your headquarters and primary market—but serve a global audience. In addition, the farther away your servers the slower your website speed.
HOW TO IDENTIFY A POOR WEB HOSTING SERVICE PROVIDER
One of the easiest ways to identify a poor web hosting service provider is this: their primary focus is their low price, not their features or service statistics. If a provider is unwilling to provide clear and measurable answers to the points above, they are not a quality provider. Don't be shy about asking how they compare to their most noteworthy competitors and be sure to shop around and compare the answers you receive. Also, inquire about their ongoing support, is it 24 hours a day, by phone or by email? 24/7 is a must.
Every business owner or employee assigned to managing all things related to website maintenance must familiarize themselves with the key performance indicators required to determine if their web host is up to snuff. The tips above help you determine those KPIs.
Cider is a Software Development Company based in the heart of Silicon Valley. We combine business domain knowledge and technology expertise of more than 50 development studios spread around the world. We specialize in custom web development, as well as customization of CMS based websites. We have experience in building websites across different verticals: from eCommerce to Healthcare.
We will be happy to help you choose the right hosting provider and build a website! Reach out to us for a FREE Quote!