How to Plan Your Content Marketing Strategy for Your Web Project Launch
There's a lot that goes into launching a new website, mobile app, or digital product. Planning ahead is vital for your success, including planning your time, your budget and your content marketing strategy. Content marketing is a must for any digital launch and is the difference between gaining immediate traffic—or little to none. Here are some best practices and content marketing strategies to consider.
DETERMINE WHAT TYPES OF CONTENT YOU REQUIRE
First up, you need to determine what type of content needs to be created. Not all types of content are required for every digital product or online launch. Your demographic and the type of paid marketing you will be investing in are crucial in making your decision. In order to build sufficient backlinks to and from your website, you will need multiple types of content in a variety of internal and external online locations. This includes any external article marketing, internal blog posts, Podcast or video interviews, promotional videos, infographics, eBooks, ads, and more. One of the great things about videos, infographics and all visual or audio content is that (unlike written content) they can be placed in multiple places online without you being dinged by search engines for duplicate content. Below are some of the must-have strategies.
CREATE A CONTENT CHECKLIST AND CALENDAR
Once you determine the type of content you require, create a checklist for all items that need to be curated, designed or developed. The goal is to have most, if not all, of your content in place before you launch. This includes any offline marketing materials. Also, map out your content marketing strategy so that you know when each piece of content will be released. Otherwise your vague goals may lead to things falling through the cracks. For example, it is easier to have your first ten blogs or articles written and pre-scheduled then to plan on posting two a week but getting so busy that you forget to write or post them to your blog.
GUEST BLOG POSTS
You can post blogs to your heart's content, but since you are a new name in your industry or market—you need to build a bit of credibility first. Guest posting on external websites is an excellent method of building your credibility and establishing yourself as a thought leader. Reach out to magazine editors and blog owners to discuss their guest blog practices, just make sure they have the online traffic to be of benefit. For example, ask what the average traffic to each post is over the first day, week and month the post goes live.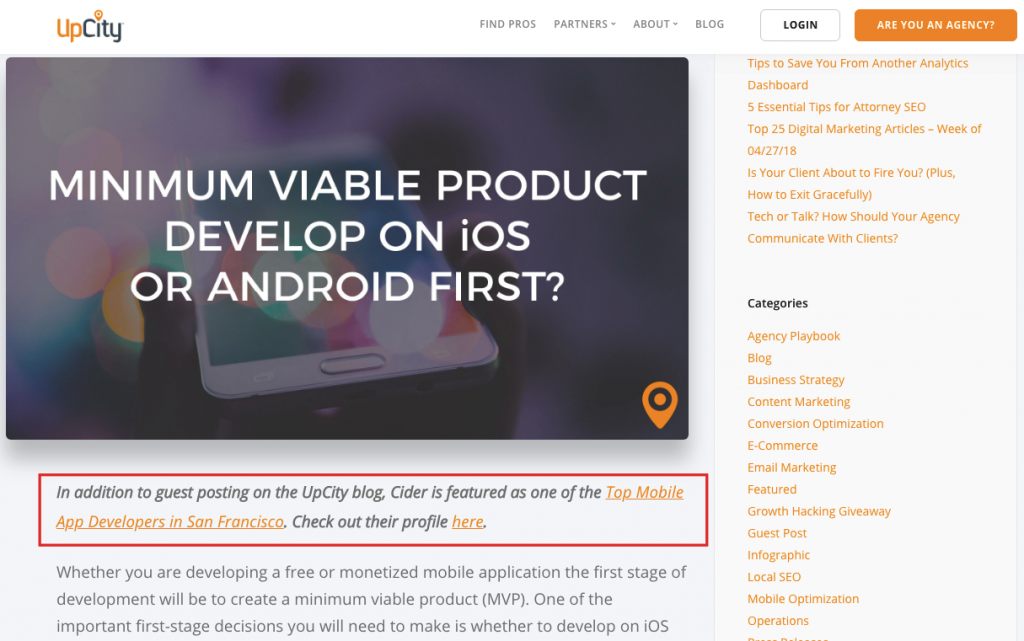 Example of our guest post –  https://bit.ly/2w6OVq5 
Not everyone will be interested in publishing your content on their platforms, so keep trying until you find someone who is the right fit. For some blogs being the right fit means your vision needs to be aligned with theirs, and others will allow you to post approved articles for a flat rate fee. Just make sure that you can link back to your website in the article or in your Author Bio. Avoid the temptation to be too sales heavy in your guest post, and instead, post relevant and useful industry content. If possible, find a way to tie in how your product or service can help, but make the connection naturally.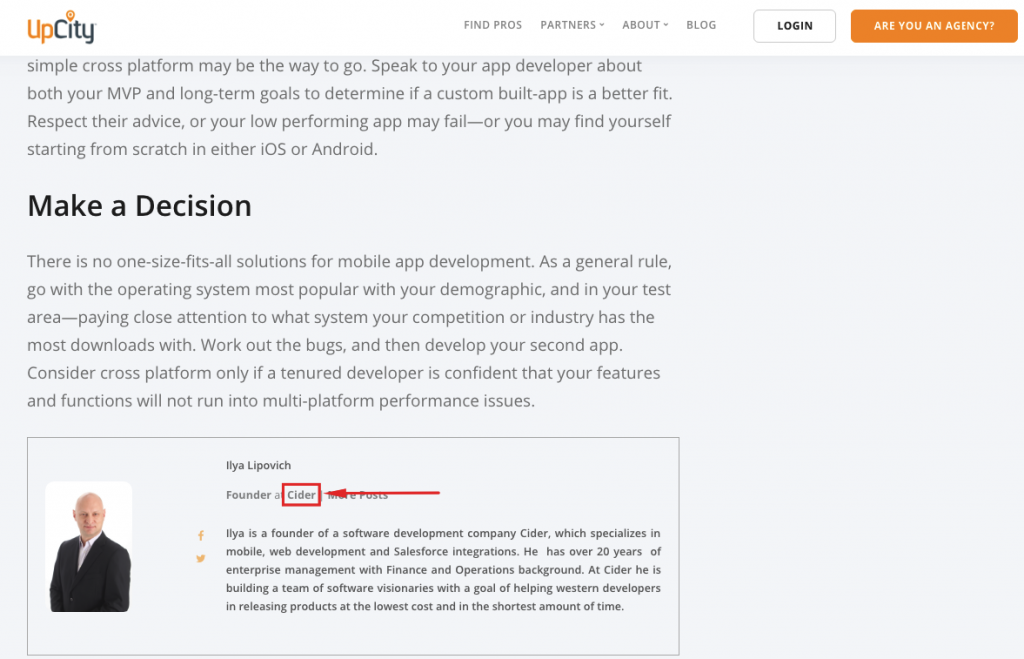 Backlink (to your website) in Author's bio
In addition to external guest blogging, seek out industry insiders or popular industry bloggers who might be interested in placing a guest blog post on your website. While you will need to link back to their website, having an already established author will organically drive more traffic and help you build quality backlinks. You could even offer to swap blogs, articles or digital content—you guest post on their website and they could guest post on yours.
Last but not least, don't forget sponsored content. Sponsored content typically can't be sales heavy at all. For example, if you are launching a fitness app for runners you could write an article on stretching for runners, or any other trending running topic.
SEEK OUT INTERVIEW OPPORTUNITIES
Next up, make a list of podcasts or video channels whose audience matches your demographic. Think outside the box, not just to industry insiders. For example, if you are targeting executives don't limit yourself to your industry, but to interview opportunities for industry-adjacent professional blogs. Don't just request an interview but be clear about the unique angle you want to discuss. And yes, you may need to pay to be interviewed.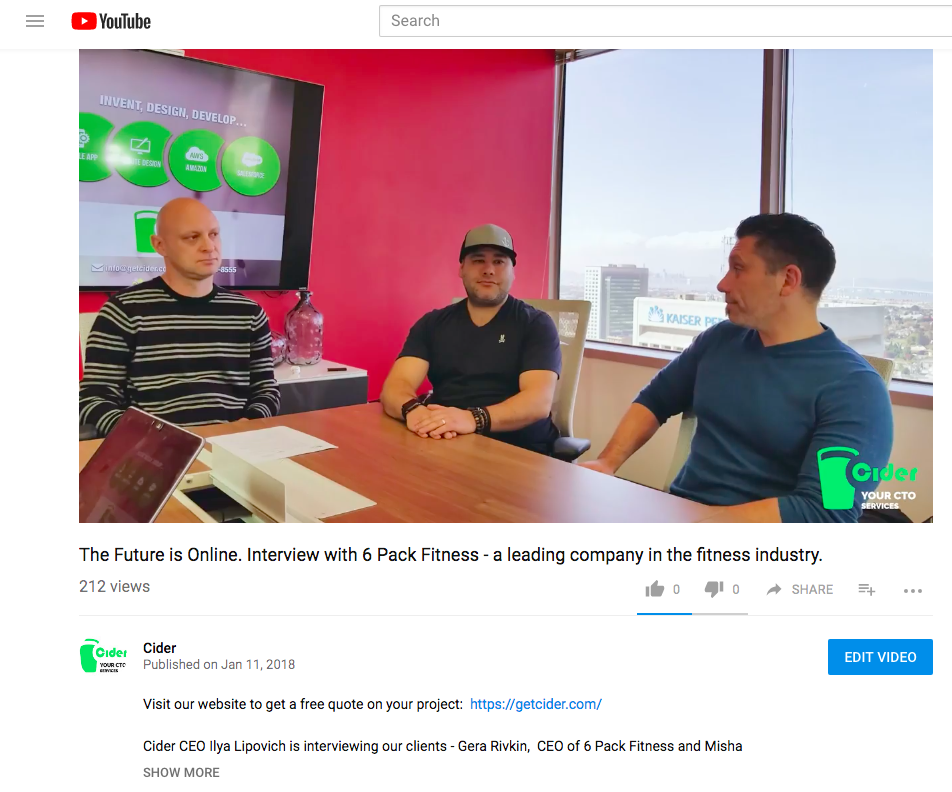 Interview with our client about eCommerce – https://bit.ly/2FFAKIa
REACH OUT TO INFLUENCERS
Influencer marketing is on the rise, but you must not sit back and wait for influencers to reach out to you, be proactive. Head to the social media channels most popular for your demographic—which will vary depending on your product or service. Then, search for the most popular local, nationwide, or global influencers. Reach out to one or two and ask if they would be interested in being an ongoing brand ambassador, or a one-off influencer.
The options are endless, but might include posting about you on their Facebook, LinkedIn, Instagram or Twitter. They might even do a video featuring the benefits of your product or services. You will not be able to secure influencers without some type of compensation. This might be free product or an influencers fee. 
TARGET MARKETING
In addition to the organic marketing strategies you implement, you must invest in inorganic (aka. paid) targeted marketing. This should be a substantial part of your new website or product launch budget, as it provides you with the opportunity to hyper-target your audience by both keywords and demographic. If you have not invested in targeted marketing before, the depth for which you can target is impressive, including targeting by:
Service area—city, zip code state, country, etc.

Gender

Age

Device used to browse the web

Area of profession and/or areas of interest

B2B or B2C

And more!
The most effective methods of targeted marketing are Pay-Per-Click (PPC) and social media ads on Facebook, Instagram, Twitter, LinkedIn and Pinterest. PPC tends to be the priciest, but often the most effective in driving traffic and conversions. Conversions don't always mean sales, as one of your initial goals may be to drive traffic to a landing page where you provide a free gift (like a tips list, checklist, video training, or eBook) in exchange for contact information to build your email marketing list.
Don't forget to explore PPC on both Google and Bing, and for best results consider hiring a PPC expert to design your ads each quarter.
CONCLUSION
Paid marketing on social media is an excellent way to grow your social media base (followers, likes, conversions, etc.), and depending on the social platform can be used to drive sales and conversions. Your upfront or new launch budget should be larger than your ongoing social media marketing budget.
Before you begin with any of the tips above, you need to clearly identify your tagline. This will vary from one new product launch to the next, but there must always be a theme in mind for the content you curate—and the advertising you implement.
Cider is a Software Development Company based in the heart of Silicon Valley. We combine business domain knowledge and technology expertise of more than 50 development studios spread around the world .
At Cider we are help companies build product and market it properly by implementing data-driven marketing campaigns. We understand that success of your product depends on how well your marketing strategy is built prior to product launch. The phrase, "If I build it, they will come," doesn't work in most cases. Based on the analytics we help companies to create relevant content strategy, run PPC campaigns and social media ads, as well as build referral profile.
Reach out to us to learn more about opportunities in digital marketing space for your business!