Magento 2 – Do I need to migrate?
Despite the release of Magento 2 in 2015, thousands of stores are still supported by Magento 1. This is concerning because Magento 1's end of life (EOL) is quickly approaching. Businesses need to transition to Magento 2 to guarantee a reliable, fast, and secure experience to ecommerce users. Despite the noticeable and overwhelming improvements in Magento 2, many are hesitant to switch softwares because of fear of change and migration requires extra work and costs. However, this investment of time is reflected in the improvements made during migration. If you are trying to stay on top of the ecommerce game, you urgently need to transition from Magento 1 to Magento 2.
Magento is one of the most powerful, diverse, and secure content platforms for ecommerce websites. Yes, there are plenty of alternatives to Magento, but none that are as easy to customize – and few that can handle large inventories and a high-volume web traffic, hourly catalog views, and orders. It is unrivaled in terms of ecommerce security. It is the ecommerce framework of choice for millions of mid to large enterprises, and with the improvements from Magento 1 to Magento 2 – a growing number of small businesses.  
WHAT MAKES MAGENTO BETTER THAN OTHER CONTENT MANAGEMENT SYSTEMS?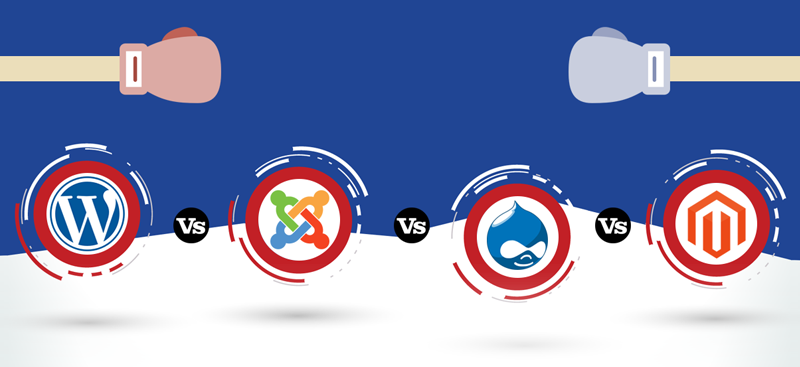 There is no shortage of popular content management systems out there. Designed for volume, the Magento remains in the top 2 CMSs of the top 500 internet retail companies. Globally, Magento powers 28% of all websites, 16% of the top one million websites. This includes both ecommerce and standard websites. As an open source platform designed specifically for ecommerce, you will enjoy an integrated platform designed to meet your needs in terms of your website, online sales, and back of house and reporting functions. You can even run more than one shop, in different countries through one codebase – with synced inventory and multiple currencies if needed, making Magento a simplified solution for global ecommerce websites.
The first version of Magento was released in 2008. Although there have been multiple updates and fixes, the need for Magento 2 was inevitable. Magento 2 was released in 2015 and was designed to address multiple performance issues, including speed, mobile responsiveness, and administrative capabilities. The new framework is more than just an update, but entirely new architecture that current users must migrate to if they want to upgrade.
WHAT IS MAGENTO 2?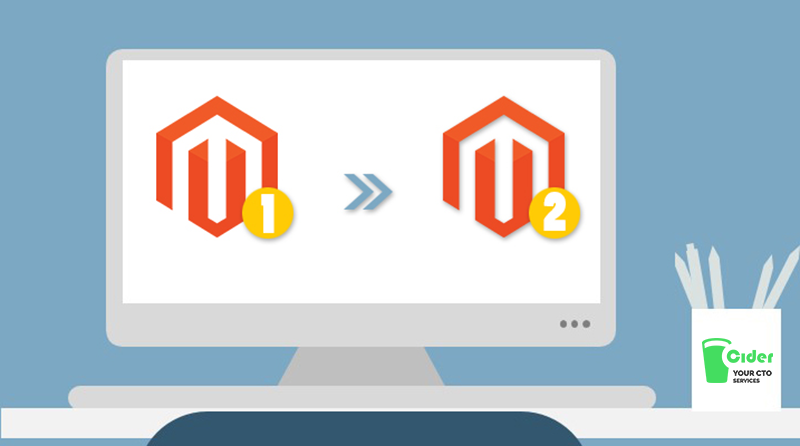 Magento 2 is the answer to the most common customer requests for Magento 1, and the evolving needs of online and mobile sales. The upgrades and updates are many, and the need for extensions has been greatly reducing, but certainly not eliminated. Here are some of the key benefits of making the migration:
Improved Performance. As the platform of choice for major retailers, there were several performance issues that needed to be resolved. This includes:
Search engine optimization is now built in.

Page load times are

25-50% faster

.

Up to

39% more orders

can be processed per hour.

Products load to the shopping cart

52% faster

.

The system can support

10 million-page views per hour

, compared to 500,000 per hour in Magento 1.

90,000 orders can be processed per hour, compared to 50,000 per hour in Magento.
User-Friendly Checkout & B2B Accounts. Online shoppers aren't known for their patience, so if checkout is complicated or slow – you are likely to lose them. Not just that, but the increased demand for B2B ecommerce and account-holder needs has been addressed with Magento 2:
Simplified checkout with fewer forms, and account registration that is completed

after

checkout.

Photos are now included in the orders summary, not just the product name. This reduces the likelihood of returns from accidentally selecting the wrong item, color, or style.

B2B accounts designed to be shared by multiple account holders.

Quotes and negotiation features are built-in for B2B account holders.
Improved Payment Integrations. While extensions could be added to Magento 1 to expand payment processing, Magento 2 is built with some of the most in-demand global payment portals built-in:
Credit Cards

PayPal

Braintree

Worldpay

Cybersource

And More!

Improved Admin Interface. The new and improved drag-and-drop interface is easy and intuitive for administrators who don't know how to code – meaning you don't have to call your web developer every time you want to make a change. In addition:
The process of adding new products is streamlined and now 4 times faster.

Multiple admins can be logged in at the same time, and even alternating product data at the same time.

You can now add product videos via YouTube and Vimeo without an extension.

Google Analytics data can now be integrated with your store data.

Advanced real-time reporting and analytics help business owners to gather accurate new insights.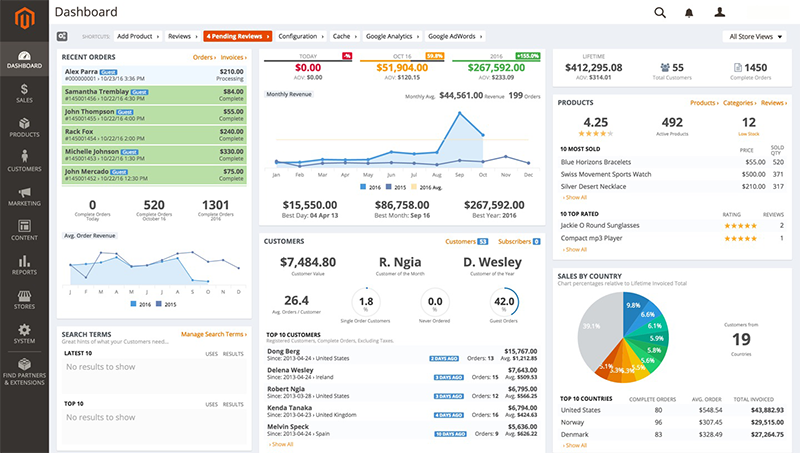 Mobile-Friendly Integrations. When designed in 2008 the goal was to create a cutting-edge and versatile ecommerce CMS, but mobile commerce is now an essential part of the equation. This means that your platform must be more than mobile responsive, but also easy to view products and process orders on mobile devices – both for clients and customers. Video and product photos are also easier to view online mobile devices. Mobile shopping is slated to surpass desktop online shopping by 2021, so the mobile-friendly integrations are a proactive approach to what's to come.
SHOULD I MIGRATE TO MAGENTO 2?
Even if you are pleased with Magento 1, as of 2018 there will be no new bug fixes or updates. This includes the security updates that Magento ecommerce is notorious for. For this reason alone, many are looking in to migrating from 1 to 2. With the improved page load times, streamlined checkout, improved back of house, and growing list of customizable features – it's hard to argue reasons why not to. That being said, migrating is not a simple update. Businesses who make a move will need to have an entirely new website built. If you wish, the website can look fairly similar – or you can take this opportunity to update your design, layout, SEO text, and customizable features. After migration, users can instantly expect:
Improved UX and overall website performance.

Increased traffic and conversion rates.

Streamlined method of adding new features such as modular code.

An intuitive, drag and drop admin interface.

Improved real-time analytics and reporting.

User-friendly mobile shopping upgrades.

More payment portal extensions built-in.

Streamlined shopping cart.

B2B account features built-in.
As you can see Magneto 2 provides some compelling reasons to migrate, or implement right from the start. While Magento 1 is still a class above most content management systems, Magento 2 has the foundation and features designed to support the future of ecommerce. 
Cider is a Software Development Company based in the heart of Silicon Valley. We combine business domain knowledge and technology expertise of more than 50 development studios spread around the world.
We specialize in custom web development, as well as customization of CMS based websites. We have experience in building websites across different verticals: from eCommerce to Healthcare.
Reach out to us for a FREE Quote!