Top ways of choosing Managed vs. Freelance software development resources
A critical dilemma business owners face when outsourcing software development work is whether to hire freelancers or acquire services of one or more managed teams. Your hiring criteria should be based on your project requirements, but it is essential to have a clear understanding of what both options have to offer to make the right choice.
That said, if both options are remote, what are some of the differentiating factors between them? Let's have a look at how remote development teams compare to freelance software programmers.
Hiring Freelancers
Freelance platforms like Upwork.com, Fiverr.com, and Toptal.com, appear to be first on the list when you consider hiring freelance software developers. These and other platforms stand by the principle of gathering as many freelancers as possible. A growing number of freelancers leads to higher competition between the platforms and therefore lower rates. These portals offer an extremely polished process of finding a resource easy and fast. But wait, there is also a flip side of the coin.
Hiring freelancers is a good idea for small projects. However, when it comes to more complex projects it might be risky for many reasons:
Without a resource being referred by a mutual connection it is hard to rely on the quality and trustworthiness of the individual;

With freelancers, it is your job to tell the difference between competent and incompetent candidates. If you are not a specialist in the field of software development, selection process will be tricky;

The resource may manage multiple client projects. This will likely cause missed deadlines or inaccurate task completion;

Can disappear and take the code. In case something unexpected happens, and the developer you've hired goes, who handles money spent and time wasted?
Moreover, freelancers often have a very narrow specialization, which is not ideal for a complex project. Business owners usually can't predict what resources are essential to fulfilling their project needs. For instance, if you need to build a fully functional website, hiring just a developer would not be enough. You will need to create a team made up of developers, designers, QA, etc… Furthermore, with a team of freelancers, there is a lot of extra work that you will have to do yourself. It's your responsibility to manage freelancers' work once you've hired them, so you also should be their HR, motivator, career consultant, and cheerleader if you wish to keep them long-term.
Considering all the pain points mentioned above, let's consider other ways in hiring remote software developers.
Managed software development teams
Many online platforms help SMBs to find software development companies around the globe. Such websites are Clutch.co, UpCity.com, which provide independent ratings of the world's best mobile & web developers, IT service providers and marketing agencies. When choosing an outsourcing software development company, it is essential to:
Check testimonials and case studies;

Assess the vendor's response time and level of English;

Compare resource professionalism combined with hourly rates among 2-3 candidate companies;

Choose a suitable cooperation model based on your business needs and budget – fixed price, time and material or dedicated team, and discuss it in detail with your possible vendors.
The benefits of outsourcing mobile/web software development to offshore companies:
Lower risk because the reputation of a company is at stake, as it is more likely to be referred by someone.

Has a management structure (Leads, PM's). Managed software development teams require less management due to their well-organized management systems already put into place.

Resource backups are available. Most midsize and larger outsource companies have "workers on the bench." These people are not included in a project team, but in case someone gets sick or leaves the company, they are ready to take on your project as substitutes. This mitigates the risk of downtime.

Individual resources and full project teams with specialization in all technical responsibilities of a project are likely available.

Post product release support structure. Ongoing maintenance of a project is necessary post completion of development.
Of course, hiring a managed software development team is less risky than hiring a freelancer, but still, the risk exists. Some ways to manage risk are below.
Risk avoidance
Large projects usually require greater investments of time and money and therefore higher risk. However confident you are that your project will succeed, be certain that changes will come along or you will pivot out of your first idea altogether. Here are some rules each person dealing with remote software development teams should follow:
Never pay the full project cost upfront. Only settle for bi-weekly invoicing. Managing the project via Agile methodology is recommended, meaning that time required for development will be divided into sprints, which usually last two weeks;

Always manage projects through a project management tool (Trello, Jira, etc…); it increases transparency, so you don't have to trust your resources blindly, but instead, can watch everything yourself. Moreover, these tools help in creating and assigning tasks, tracking project progress and overall time estimations;

Hold regular stand-ups/project updates. Daily updates on current and completed tasks are a must in keeping your finger on the pulse of the project.

At each sprint end, always take ownership of the code through GitHub or another repository. It will save you time and money in case of emergencies;

Try not to pay a flat/blended rate for resources. When signing contracts, you should know exactly how much you are paying for a developer, designer, QA, etc.… It helps make the payment process more transparent between all parties.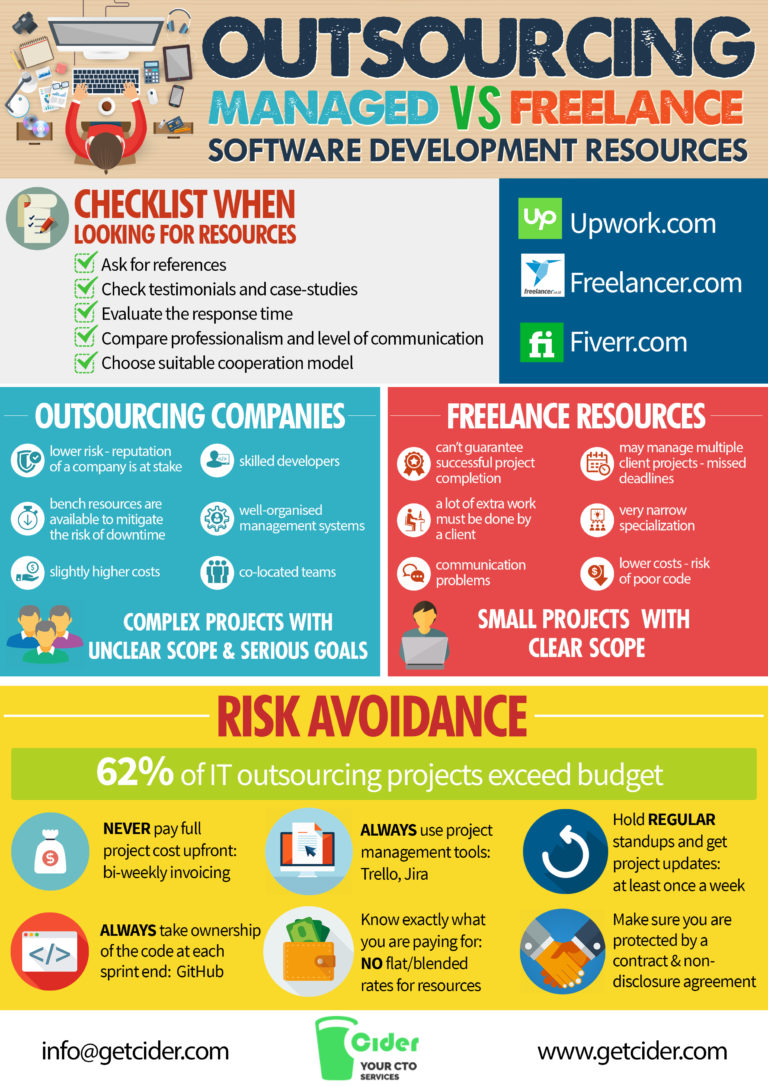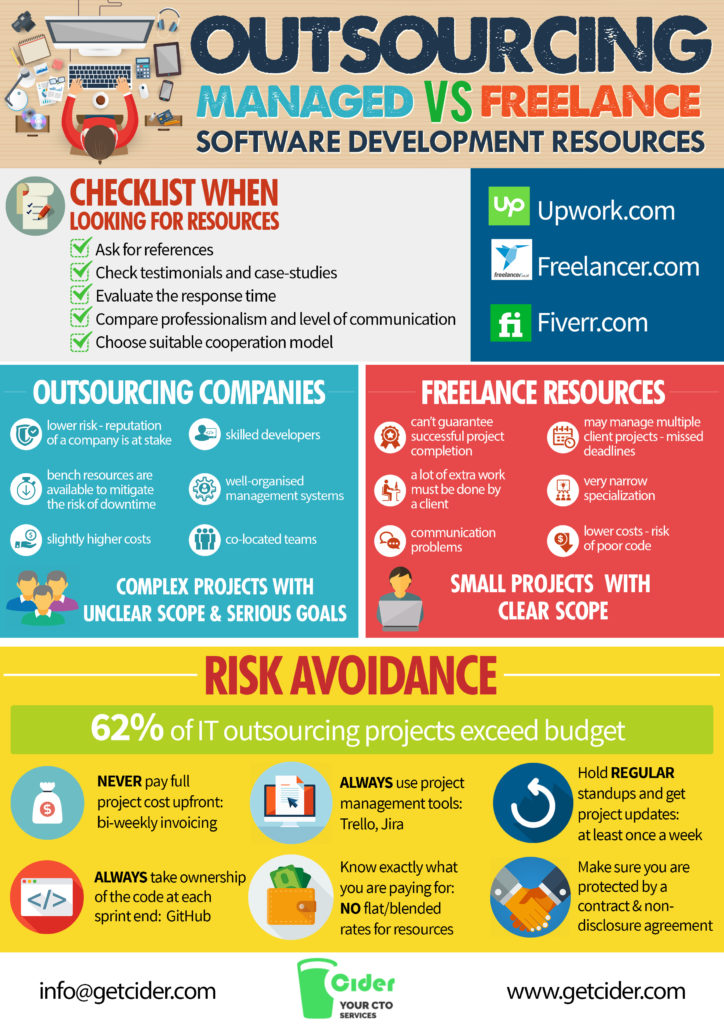 Conclusion
Choosing a partner to fulfill your software development needs is not as easy as it seems. The choice should be based on your primary project goals and then budget and time.
Whenever long-term cooperation is involved, hiring a remote development team from an outsourcing company seems like a sounder decision. Hiring a freelancer would be suitable for smaller projects like updating an already developed website or managing content.
Cider is a Software Development Company based in the heart of Silicon Valley. We combine business domain knowledge and technology expertise of more than 50 development studios spread around the world.
We specialize in both: mobile app development and web development, which includes building mobile-optimized websites, custom web development, as well as customization of CMS based websites. We have experience in building websites and mobile apps across different verticals: from eCommerce to Healthcare.
Reach out to us for a FREE Quote!