Mobile Web or Mobile App: Must you decide?
In 2015 Google announced that mobile search had finally surpassed desktop search. Since then the numbers keep rising, and mobile search on notebooks and smartphones continues to rise.   
Smartphones are windows to the world. They are everyday essentials for a growing number of teens and adults. Just look at the rapid growth and predicted growth of smartphone adoption as shared by Statista — growing from 1.57 billion global smartphone users in 2014, to an estimated 2.87 billion in 2020. This is something business owners must take into consideration when deciding between a mobile website and a mobile app, or both.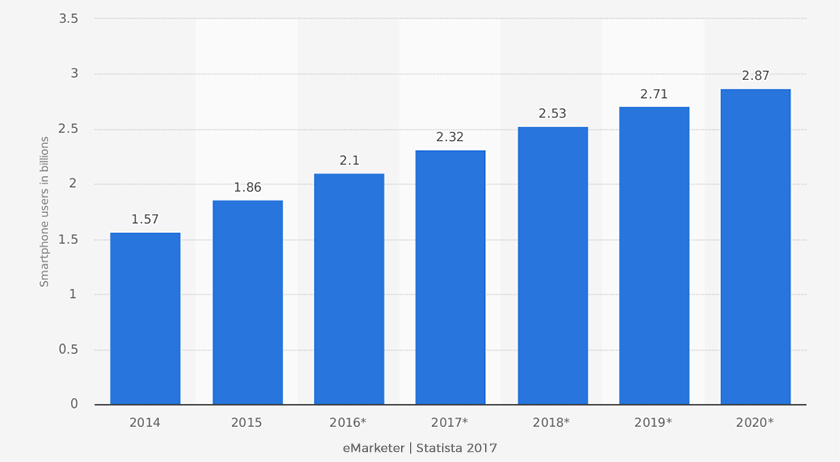 MOBILE WEBSITE & MOBILE APP
Let's say you own a small local restaurant. Your mobile app could be used to prepay for orders so that customers can walk-in and grab and go, or even to order, schedule, and track your local catering and delivery orders. Yes, you may still have a website, but your app will be the on-the-go solution — boosting your sales when customers are short on time. Regardless of your industry, mobile shopping is on the rise. Over 50% of shoppers in Japan and the UK have placed an order on their mobile device, and this percentage is growing rapidly on a global scale. Don't think this would apply to you? Have you ever used Uber or paid for your Starbucks with your phone? Or purchased a song, eBook or download from iTunes or Amazon while on your phone? Sometimes we shop on our mobile devices without realizing it.
THINGS TO KEEP IN MIND RE. MOBILE OPTIMIZED WEBSITES & MOBILE APP
Here are some key points to keep in mind when deciding between a mobile optimized website and a mobile app, to help you decide whether you should consider both:
Branding And Customer Loyalty
When a customer downloads your app on their smartphone or notebook, they are making a conscious choice to support your brand. Even if your app icon is a few screen swipes over, it is an excellent way to keep you top of mind. But, you will still need a website to show up on Google searches.
Customer Engagement
Unlike your website, your app can be utilized to send automated push notifications and personalized engagement. For example, if geolocation is turned on you can send a sale reminder or in-store coupon when customers are within a designated radius. This can work wonders in boosting frequency of sales; via mobile, online and in-store. On the flipside, your website home page and your website landing pages are an excellent way to build your email marketing list. You can even add an AI chat bot for instant engagement.

Average Order And Shopping Cart Abandonment Rates
The layout of mobile apps rather than of websites is cleaner and more intuitive and suggested upsells can be personalized via past shopping habits and current cart selections. Statistics show that as a result, cart abandonment rate on apps is only 20%. In addition, the average order on eCommerce apps is 140% higher and 130% higher on mobile optimized sites than on a standard desktop website.   
Loading Speed

We may understand that we can't expect the same rapid load time when browsing the web while out and about. To be fair, we can't control public Wi-Fi. However, Internet connectivity is only one factor when speaking of website load times. Mobile apps always load faster than websites, as there is often around 10 times less data that needs to be transmitted between a server and an app than a server and a browser. Not only is this convenient, but Google has announced that faster mobile load times will soon be a contributing factor in mobile page rank. This change will go into effect as of July 2018.
UX/UI Design

Even the most well-designed eCommerce stores can be visually distracting. There's a menu, header, footer, multiple pages, and sometimes a home page you land on before you can begin shopping. However, mobile optimized sites are less distracting and get straight to the point. The UX design creates a clean and crisp shopping experience, boosting sales and conversions by 3 times on mobile apps when compared to mobile websites. Since customers can get right to shopping, they are likely to spend more time on your mobile website or mobile app than on your desktop website.
Trends For 2018
This is the year of less is more. People are busier than ever and want to get straight to the point. Everything from your mobile website content to your digital marketing headlines, and article marketing should be short, sweet — and to the point. Video marketing is growing at lightning speed, particularly photo-only and animation — again short and sweet 10 to 30 seconds. This includes videos that can be played within your app and your mobile website. Geolocation for mobile websites and apps is on the rise in a variety of ways, even an increase in push notifications from Google to post the pictures you take to Google maps. This benefits you if you have a brick and mortar location, so be sure to add your business to Google Maps. In terms of building your business, provide ways for your customers to submit photos through your app or website of them using, wearing, or eating your products — to share on your social media.  
CONCLUSION
When launching a new business, you must not underestimate the importance of building your online and mobile presence. As you know, having a website is no longer enough — and your website must at least be mobile optimized. This means you need to find a website designer who specializes in mobile and be sure to really browse through their mobile-friendly websites yourself. While an app may not have been part of your original plan, as you can see by reading above — there are many benefits in terms of building your brand, engaging your customers, and increasing conversions. It really depends on your individual business model. Even if your brick and mortar location is your passion, don't underestimate the value of mobile apps and mobile commerce.
Cider is a Software Development Company based in the heart of Silicon Valley. We combine business domain knowledge and technology expertise of more than 50 development studios spread around the world.
We specialize in both: mobile app development and web development, which includes building mobile optimized websites, custom web development, as well as customization of CMS based websites. We have experience in building websites and mobile apps across different verticals: from eCommerce to Healthcare.
Feel free to contact our team for a FREE quote!