What is CRM and how to choose the right one for your small business?
Today, the automation of various business processes has become second nature for companies. It's tough to imagine running a warehouse or organizing finances without the use of specialized software. Placing orders and managing teams from your tablet or mobile phone is the new normal. And yet, customer communications are frequently managed using old technology such as spreadsheets in many small and medium-sized businesses.
Our clients often spend a lot of money on various marketing channels in a bid to drive up sales growth and customer retention. But, in the end, they lose both prospective and current customers by not taking advantage of marketing automation. Instead, they choose to settle for inconsistent communication and missed follow-up opportunities with hot leads.
Where do you store customer data? On a piece of paper, on your phone, or in Excel? You may well have been browsing different CRM software solutions, but you might not have a full understanding of what a CRM system is and how it operates. With that in mind, let us explain (in terms you can easily understand) what a CRM platform is and why you need one.
In short, CRM stands for Customer Relationship Management. With CRM software, you not only manage every component of your customer relationships, but you can also store and analyze all of your customer data to make more informed sales and marketing decisions.
What information goes into a CRM platform?
Basic customer information: Name, email, phone, city, as well as what products they are interested in, or how they found your company.
Client life cycle information: When you last spoke with a client, called, wrote letters, sent an email, etc.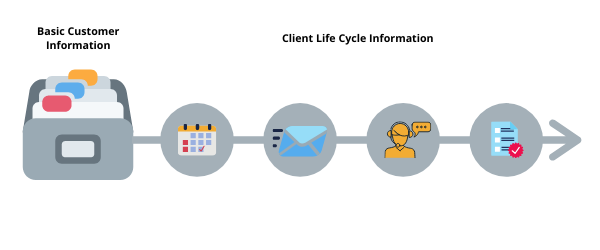 Keeping your customer data organized
CRM software allows you to accomplish this outcome by offering custom fields that prompt each of your sales managers to collect the same data for every client. Most solutions will arrange all customer communications in chronological order, with the latest interaction appearing first.
As a result, you can create a contact card, which stores all the necessary information about the customer. The search box and the filters allow you to find the customer quickly and easily. The dashboard gives you a simple overview of all customer contact information as well as detailed records of your interactions with them.
Who needs a CRM?
Before choosing a CRM system, you need to understand whether your business requires such a solution. Frequently business owners are pushed by software vendors into buying their product. But before you commit, you need to ask yourself, 'Do I really need this system?'
You do need it if you process a lot of calls, letters, and messages on a daily basis. The same is true if you maintain long-term relationships with your clients through regular upsells of new products and services.
You don't need it if you are not interested in building long-term relationships with customers. If you do not call, do not write letters, nor send SMS notifications. If you are not continually looking for new customers, instead, they come to you when they need you. If you work in monopoly market conditions, your customers are constant, forced to buy from you, and cannot influence the terms of transactions. Grocery stores, gas stations, and government contractors are perfect examples of companies that don't require CRM solutions.
What pain points do CRM systems solve?
CRM solutions have been created specifically for the work of sales and marketing departments, and their principal aim is to increase sales growth and improve the efficiency of customer communication through marketing automation. You want to strive for excellent customer retention rates so that you can have a long pipeline of customers waiting to buy from you again.
To achieve that business objective, you need to automate several sections of the sales funnel, improve data sharing amongst employees, and eradicate the need for your top sales and marketing teams to carry out manual tasks. Thankfully, this is precisely what CRM systems were created for.
___________________________________________________________________
The origins of CRM
It wasn't always so easy. It wasn't until 1986 that Pat Sullivan and Mike Muhney released the first version of CRM software. It was called ACT!, and it served as a pseudo digital Rolodex, offering a digitized contact management system. From there, it was not until the advent of cloud computing that CRM systems really began to take off.
Siebel Systems, launched by Tom Siebel in 1993, was the first product that could be considered what we call a CRM system today. Throughout the 1990s, a range of similar systems were launched by PeopleSoft, Oracle, SAP, and Salesforce.com, which took advantage of cloud-hosting to provide "access anywhere" customer databases within built-in marketing automation capabilities.
_____________________________________________________________________
How are CRM systems priced?
Implementing a CRM-system is undoubtedly a wise investment for almost any business. However, using high-quality CRM software involves a multitude of varying costs. To understand how much a CRM system will cost, you need to understand the criteria that govern those costs:
The overall cost of a CRM system depends on:
Functionality – the number of features (such as forms, emails, integrations, reporting, and analytics, etc.) designed to solve specific business problems.

Interface – in most cases, CRM systems are equipped with universal designs, but large companies require custom-designed software to maintain branding.

Licenses – can be implemented in the form of a one-time payment or a temporary subscription (read in more detail below).

Data parsing – the manual or automated transfer of data (contacts, statuses, accounts, etc.) to the CRM system.

Training support – the ongoing training of users (managers, accountants, and others) in how the system works, as well as educating new employees.

Technical support – the refinement of specific CRM functionality for solving the needs of a company's requirements (for example, calculation of tariff plans, accounting, delivery control, etc.).